25.06.2011
SlutWalk, or, Protest In The Age of Brands
A disclaimer: I need to fully acknowledge that for all my fumbling and inarticulate attempts at getting to grips with this topic, I'm trespassing onto potentially painful and intimate territory as a male with the contents of this post (ie: triggering). That said, the only other NZ male commentary I've read on the Internet is this uncharacteristically dogshit summary from the DimPost (dude has an insane strike rate, though, better and more prolifigate than mine, so what's one dashed off post?) I figure I can maybe give it a shot. My apologies in advance.
Last May, I wrote for the 2010 edition of AUSA's Kate magazine about the abolition of the provocation law (then a hot issue, as Clayton Weatherston's strangely monstrous visage continued to linger in the corners of front-page news), and the pros and cons of the law change.
My editorialising, always a problem, got worse toward the conclusion of the story, where I flat-out laid my cards on the table. One of the personal reasons why I didn't like provocation was that, leaving aside the efficacy of the legal defense,  it tried to advance moral justifications for me, as a reasonable male, abandoning self-control if sufficiently pushed and bludgeoning, strangling or stabbing a female to death. I'm far from perfect - no man is - but I'll be damned if I get excuses I wouldn't make myself handed over on an institutionally-sanctioned platter.
Rape is handled differently, and the formal defenses are actually considerably narrower - but I felt these same frissions of anger when I read the statements of Constable Michael Sanguinetti  at a Toronto university's safety forum on January 21 this year. Kicking off the SlutWalk phenomenon, he opined:

"You know, I think we're beating around the bush here. I've been told I'm not supposed to say this, however…women should avoid dressing like sluts in order not to be victimized."
Okay, one bad apple? A sort of Garth George-as-Mountie? The following month, in Manitoba, Justice Robert Dewar sentenced Kenneth Rhodes to a two-year conditional sentence of home detention for raping a 26-year-old woman. The
Winnipeg Free Press
offers reports his summing up like so:
"…Dewar called Rhodes a "clumsy Don Juan" who may have misunderstood what the victim wanted when he forced intercourse along a darkened highway outside Thompson in 2006.

Rhodes and a friend met the 26-year-old woman and her girlfriend earlier that night outside a bar under what the judge called "inviting circumstances." Dewar specifically noted the women were wearing tube tops with no bra, high heels and plenty of makeup.

"They made their intentions publicly known that they wanted to party," said Dewar. He said the women spoke of going swimming in a nearby lake that night "notwithstanding the fact neither of them had a bathing suit."

…

"This is a different case than one where there is no perceived invitation," said Dewar. "This is a case of misunderstood signals and inconsiderate behaviour."

Dewar said he didn't want to be seen as blaming the victim but that all of the factors surrounding the case must be viewed to assess "moral blameworthiness."
I'm not for a second suggesting this is solely a problem of Canadian society. Were that the case, I doubt SlutWalk would have formed dozens of satellite marches, including tomorrow's in Auckland City. However, in reading these two case studies, those men who always assumed that, you know,
never raping a woman
was the best surefire method to ensure that those women aren't victimised may be feeling a few 'misunderstood signals' themselves right now. Your will of iron is to commended, because god knows those scantily-clad, skinny-dipping sluts have been maxing it out this whole time.
Stopping being flippant, and leaving aside the question of validity of protest entirely, I'm trying to paint a picture of the context in which a mass organised reaction like SlutWalk flourished. It's one where officials who are meant to be accountable at a public meeting for safety and security put a person's physical and sexual integrity in the 'too hard' basket. It's one where the very subjective question of "moral blameworthiness" gets passed back and forth between victim and offender over the previously clear line of 'consent or not'. And of course, it's also one in which rapists are portrayed in judicial rulings as some sort of lovelorn archetype, like Will Ferrell in Stranger Than Fiction. You bumbling predators!
So, yes, I think we can understand the sentiments.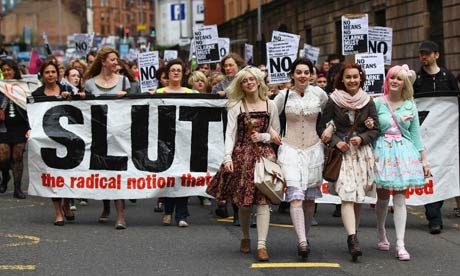 First hurdle, dumb hurdle
There's an important strawman to chuck on the brazier first, and that's that those criticising the SlutWalk concept are not tantamount who those who think going out dressed 'like that' is 'asking for it'. This is a stupid, blowing-up-on-the-launchpad sort of a tactic that manages to tar everyone from actual Internet creeps to strident second-wave feminist veterans with the same brush. I do think that some criticisms of SlutWalk reflect a patriarchal and conservative idea of what protest and civil action should be, but I mean, whatever; this is not the same as shifting culpability for rape.
So let's get those people out of the way first! Ie, yr garden-variety: "Oh, bro, I'm not a rapist because I don't have to rape to get it. You know? Ha ha. It's just that what I'm saying is - so you've got a nice car, right? And you leave it out in a bad part of town in the middle of the night, totally unlocked, no alarm. Are you saying it's not your fault at all? Bro, I'm honestly just saying."*
 (*Check your FB statuses on this - high school dudes, sheltered and conservative female law school grads, wherever you may care to look. You'll find it, or something similar)

Okay. Apart from the fact this equivocates an individual with an inanimate object and tries to suggest that theft and vandalism have anything of the magnitude of rape in terms of human cost and consequence. Apart from the fact that this analogy is so pig-stupid banal (car locked vs. car unlocked) as against the almost unquantifiable number of variables involved in rape, for both male and female victims. Apart from the fact the 'car in a rough part of town' analogy has no discernable connection to the woman assaulted in her office working late, alone with a co-worker, or the 12-year old girl whose stepfather appears, swaying and lecherous, framed in the light of her doorway every night.
Apart from the fact that when your car gets totalled, you don't have to submit to long interviews where your veracity gets questioned (are you being honest with us when you claim that the car was stolen? Bro, girl who cried wolf.) Apart from the fact that, should you go up against the man alleged to have stolen your car, in front of a jury, that jury wouldn't be allowed to hear from defense counsel that you're pretty unreliable when it comes to locking things, and you'd been a bit careless in the past, and so it sounds like you don't really care what happened to your car that much. Apart from the fact the jury is unlikely to have been selected via the challenge process to get a bunch of people who think, deep down, they might take an unlocked car if they had a chance.
Apart from these, it is of course true that the defendant who stole your unlocked car from Cross St is no less culpable in law than the one who stole it from your secure Remuera garage. So minor flaws aside, this is a cast-iron comparison that confirms the fault lies with the offender! Congratulations, you've joined the lofty ranks of the philosopher kings.
So, to whit: Women can and should take measures to defend themselves. However, this doesn't abdicate me or my fellow man of our basic and total responsibility not to rape. Apart from the nasty puritanical streak it imposes on women, it does men a huge disservice to say that a hint of thigh, a low-cut top, or a friendly glance should be accepted as enough to send us over the edge. Contrary to what the worst specimens might have you believe, we've actually worked hard not to be, or be perceived, as total fucking animals. Stop tossing us these easy outs.
Street Chants and Tone Arguments
…or, I don't know what they're doing with this SlutWalk either. Can't they get Officer Sanguinetti blacklisted through their well-funded lobby groups, or have a word to their old boys' networks, or…something? Oh.
The 'tone argument' fallacy is a big thing for angry minorities. It's also a more insidious way of discrediting SlutWalk than being a big loud dumbshit paraphrasing 'Roxanne'. Basically, it criticises the manner in which the argument is conveyed, rather than the argument made. And while it's tempting to welcome it, because criticism makes any good argument and its presentation more sinewy and nimble, a lot of SlutWalk's detractors sound like they're simply shutting the discourse down until it can go away and think about what it's done. Fancy making a scene like that.
When you're sitting on the sidelines and trying to set your own parameters for a tidy or orderly response, SlutWalk is, admittedly, a great big unwieldy thing. The women on York University campus who engineered it can give their blessing to its permutations from here, but not their oversight. No one is there to keep it 'on message' and keep out more sectional interests, but I feel as if that's an ideological wobbliness that gives it a strength. SlutWalk is neither 'Lesbians Against Homophobia', 'Husbands and Partners Against Pay Inequity', or 'Workers Party Post-Structural Unreformed Reconstituted Marxists Against Bumtouching'. It's also all of these, while also reaffirming that Carol Hanisch truism. It's been over forty years, and the personal is still political. It's a credit that SlutWalk appears to have largely recognised this, and ironically, it now sounds a little like the sort of epiphany you'd expect from an adman.
I feel like branding cuts two ways across social activism circa-2011. On the one hand, it's risk-averse, professional and slick. We can agree that Amnesty International is one of the biggest voices on activism against political and state coercion and torture, and that rape is one of the most vile tools in the arsenal of state atrocities. However, you couldn't slap Amnesty's logos over your unilaterally-organised march tomorrow, touting racy placards and dressed in baggy jeans/burlesque/drag/your preference. Same with Oxfam, same with Greenpeace.
Which is not to say that any of these groups have made their peace with the establishment, but they haven't exactly waged war either. This is fine and they now serve valuable roles consulting, advising and lobbying - but the result can only be a calcification at the grassroots. Membership recruitment may continue apace, but I suspect that just how active and galvanised the new participants are is a different story. If we stop and romanticise words for a second, people want to be part of movements - not part of a semi-influential non-government organisation with stable and audited finances that has an intention to liaise with targeted Members of Parliament in order to ensure that more direct questions to be asked in the House as part of its five-year strategy to promote awareness among stakeholders my eyes my eyes they glaze. It's actually important stuff, but it's not the gut-reaction inspiring stuff that might inspire a double-take.
Branding in this world is also a little exclusionary - sometimes intentionally, sometimes unintentionally. On a niche level, it can demand that interested participants adhere to some ideologically, aesthetically, and dialectically rigid form of behaviour, the activism equivalent of a straight-edge gig. Even the mainstream and actually very welcoming activist brands will always scare people off, sort of the same way that coming into a complicated play with lots of characters and plot stands halfway through might. If I was eating McDonalds half an hour ago, it's hard for me to hop on board without feeling like a hypocrite.
So what I swear I'm now getting to, is that in terms of publicity and pull SlutWalk is a triumph - a rather clever and successful gimmick, rather than a stupid one.  It's managed to garner more attention than any of the NGO's I mentioned above in terms of column inches since the Toronto original. It's probably gained broader and deeper traction than 'Reclaim The Night' managed to in a couple of decades, with no disrespect to that movement's founders and supporters.
And even the blogs and commentators that decry it as gaudy, over-the-top, dangerous, or counter-productive are being ensnared. In a time when activity like this makes most armchair critics sniff and go "oh, another protest", it's promoting debate and reaction. Some of that reaction might be negative, you say? Oh, must be a bit shit then. Like all those other protests a lot of people didn't like very much throughout history.
I hope no one will try to claim SlutWalk is the best way to dismantle the mindset that it tries to fight - that this will singlehandedly mean that women aren't judged, nor persecuted for what they wear, or that women can be at once autonomous and sexual everywhere at anytime. But I'd also hope no one would claim to hold the one true or better way to do so, and accepts this by no means harms its own cause.
Far from it, it's created a sort of super-brand, a broad church that houses mouthy teens who have never protested for anything before, people who have fought all their lives, open-minded who may never have had to fight for anything before and realise how precious that is, gay men, lesbians, the overweight, the underweight, the bold, the timid. Its newness and its non-exclusionary jumble are potentially its two greatest assets, and a primer for further civil engagement across all sort of divides. If that meant a headline-grabbing banner, when the alternative is to cower and live with this outside the mainstream media, then I say so be it.